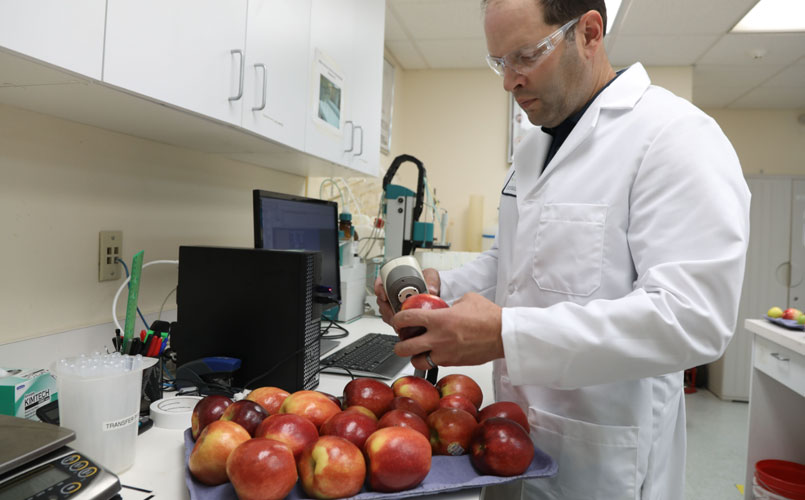 R&D: Behind the Scenes Look
To be a global leader in postharvest solutions, Pace has focused on three distinct pillars to achieve their mission: service, technology, and sustainability. Through these three pillars, Pace develops innovative tools that are supporting our customers and changing the produce industry. A critical part of this process is done behind the scenes at Pace International, through research and development.
Comprised of physiologists, pathologists, and chemists; the postharvest lab serves as the research and development hub for Pace. The lab was also designed to be an innovation center where new research is tested, and learnings are presented. Leading this dynamic team is David Felicetti, a thirteen-year veteran of Pace International serving as Senior Manager of Research and Development and Regulatory Affairs. David has a M.S. and Ph.D. from Washington State University and has spent his career working in both preharvest and postharvest disorders affecting produce. Today, David oversees the subject matter experts throughout the lab, leading Pace towards premium, innovative postharvest solutions.
Physiology and Pathology
Pace's lab operations combine two fields of study that provide the framework for new products and developments. The physiology side, led by Dr. Veria Alvarado, specializes in understanding the functions of biological mechanisms that operate within fruits and vegetables, whereas the pathology discipline, led by Dr. Christian Aguilar, explores conditions related to disease. Together, they provide an analysis of the plant biochemistry and the decay pathogens that affect fresh produce today.
When fruit issues are communicated from the packing house, they are presented to the team and accelerated to the department that is best suited to treat the issue. Lab teams are then able to investigate the issue and begin exploring strategic solutions to combat postharvest disorders.
Customer Service
Providing customers with individualized recommendations and guidance is part of the service pillar guarantee. Our team of physiologists, pathologists and technicians understand the challenges and obstacles affecting fruit and vegetable quality. The postharvest lab offers the following services to improve your efficiencies whether it's on the packing line or in the storage rooms:
A Room Swabbing
Line Swabbing
Water Sample Program
Resistance Management Testing
Ethylene Monitoring
Fungicide Residue Testing
Fruit Residue Testing
Fruit Disorder Identification
Chemistry and ecoFOG® Technology Center
Pace has developed a state-of-the-art innovation center for their ecoFog Technology. Designed for the development of postharvest freshness protection solutions. This department is overseen by Matt Weaver, Manager of Formulations. Matt's group provides the industry with postharvest freshness protection solutions, through fruit coatings and cutting-edge Thermofogging innovations. The center offers an outlet for research trials that test out new ingredients, different commodities, and faster applications to name a few. Pace engineers utilize the ecoFOG Technology Center to prepare application equipment, ensuring that commercial equipment is performing properly.
Sustainability
Our commitment to reduce food waste along the supply chain, and to protect natural resources for future generations encompasses the third pillar of sustainability. This is present in both the postharvest lab and ecoFOG center, through our dedicated team members working behind the scenes. Always innovating and collaborating, our research and development team is providing the tools needed to deliver nutritious fruits and vegetables to a growing population.
For more information about the Pace postharvest lab or ecoFOG Technology Center, please contact your local Pace representative or visit us at www.paceint.com