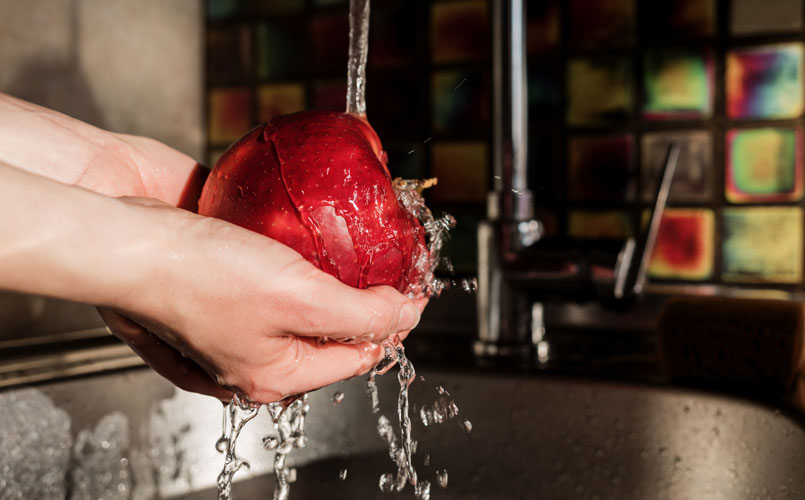 Food Safety Assurance
Although food safety practices begin in the field, orchard or grove, the critical work of ensuring the safety of consumable products continues along the supply chain. Pace International is committed to supporting our customer's food safety programs and maintaining the freshness of fruit.
Cleaners & Sanitizers
Adequate cleaning and sanitizing practices are an important component of a successful food safety program. Pace's technical team works with customers to develop tailored recommendations for wash systems and line spray applications. The holistic program includes monitoring scientifically proven target levels to ensure efficient and effective control while relying on Pace's Accu-Tab SI chlorine or PAA dosing systems.
Sustainable Storage Treatments
A clean environment leads to overall pathogen reduction. Managing decay in fruit and vegetables is a big challenge for packers from around the world. Through various application methods and fungicide formulations, which include conventional and biorational, Pace delivers a sound strategy to fight the undesired effects of decay and its economic losses.
Edible Fruit Coating
A high-quality, edible coating is the last line of defense that fruit packers have in assuring their produce will safely survive its journey to the marketplace. With a variety of coating formulations to select from and numerous variables in the packinghouse, Pace can customize a plan to ensure packers achieve the best finish possible. Whether fruit is packed for domestic or export markets, packers must rely on a coating that will perform under extreme conditions maintaining the value and safety of the fruit.
Pace InSite™ Digital Reporting System
Traceability and records accessibility are key cornerstones to a successful food safety program. Pace InSite captures the data auditors require, including chemical use information, pump and equipment set points, sanitizer levels, coating details, and copies of applicable safety data sheets. The information is easily accessible from your computer, reducing the stress of organizing hard copy paperwork.
Specific applications and treatments provide different benefits for each produce product. Pace's service team is ready to develop a program of products and services that enhances your marketability, maintains the value of your product, and aligns with your food safety programs.
For more information on Pace's food safety solutions, contact your Pace Representative.