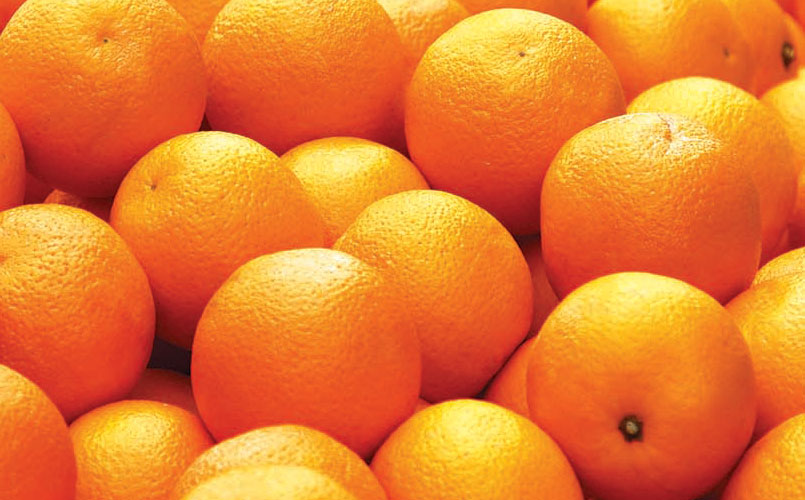 Citrus Outlook: Optimizing your Crop
As the California citrus season begins, packers' pre-harvest preparation is well underway. The 2022 outlook has become increasingly optimistic with a favorable fruit quality and sizing throughout groves. To extend that "just-picked" freshness, Pace has the preeminent tools for a successful citrus season.
Cleaning & Sanitizing
The first line of defense to maintaining quality is starting with a solid cleaning and sanitizing process. This ensures that the fruit is free of field debris and decay pathogens, but also makes the coating process seamless, allowing for high shine.
Pace offers a comprehensive selection of organic and conventional cleaners, stressing the importance of choosing the product that fits best with your process. During the fall season, many navel packers are treating fruit with ethylene for degreening purposes. Pace's team of experts will help build a custom plan for your operation, determining which products are ideal to achieve the best results during this stage.
Pace's sustainable cleaner portfolio for citrus includes Acidex, EpiClean, Sooty Mold Cleaner, and PacFoam Plus – each offering different benefits.
Decay Control
Pace's advanced fungicide technology is the second line of defense when optimizing a citrus crop. With green mold setting in right after harvest, the addition of sodium bicarbonate during sanitation can greatly reduce the rate of infection caused by Penicillium digitatum.
BioSpectra® 100 SC, the latest biorational fungicide to be organically certified for postharvest application on citrus, provides a rapid response to broad spectrum decay pathogens. This new mode of action acts by binding to ergosterol in the fungal cell membrane and inhibits membrane transport proteins, leading to cell death. This powerful biofungicide offers decay prevention for sour rot, green and blue mold.
While the citrus industry continues to face increasing complexities regarding export regulations for fungicide use, there are eight approved for use in the U.S., with six approved for export. This makes it critical for packers to rely on technical service technicians, as they help determine which solution is the best fit for their operation.
Coatings
A principal component to ensuring quality citrus is the addition of coatings to prevent dehydration. Coatings deliver the last line of defense before citrus hits the marketplace. For packers, carnauba waxes are an excellent coating option, however selecting the right product line is pivotal based on various factors including whether it's organic or conventional, domestic or export, short or long-term storage.
Pace field technicians help mitigate the guesswork by providing sound solutions leading to improved returns. Natural Shine, a plant-based line of edible fruit coatings, is one of those solutions. It works by maintaining freshness, reducing weight loss, and preventing dehydration to extend the shelf life and reduce shrinkage from the packinghouse to the kitchen counter.
Fruit for Thought
With California's advantageous crop, it's imperative to protect the natural freshness and beauty of citrus. Pace's sustainable solutions ensure healthy returns to growers through innovation, service, and postharvest solutions. From sanitizers to coatings and everything in between, Pace can help optimize your citrus harvest.
For more information about our edible coatings, please contact your local Pace representative or visit us at www.paceint.com.