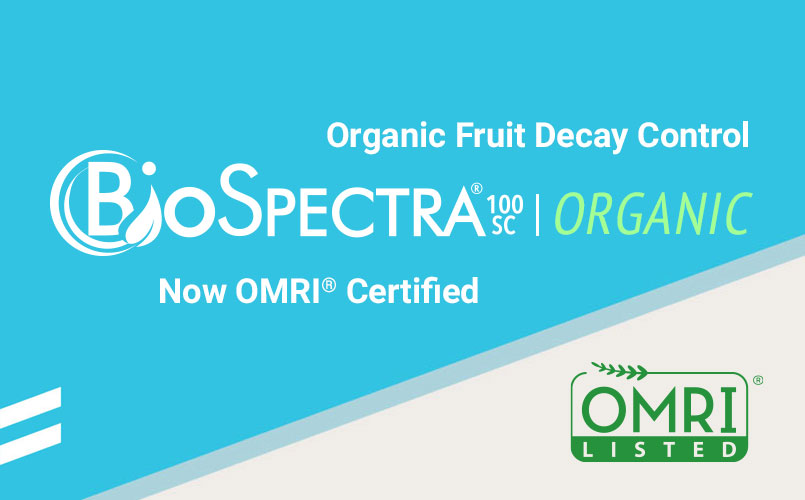 BioSpectra® 100 SC Approved for Organic Use
BioSpectra is the latest biorational fungicide to be organically certified for postharvest applications. It provides broad-spectrum decay control against several major fungal postharvest diseases across various crops and has shown better disease control compared to other organic alternatives.
After six years of highly-effective use in conventional crops for postharvest application, BioSpectra® 100 SC is now listed by the Organic Materials Review Institute (OMRI) for organic use in the U.S. The product received its OMRI Listed® seal after completing the rigorous certification process and requirements set forth for organic crop production use.
How it works
BioSpectra 100 SC has a different mode of action. It acts by binding to a unique component of fungal cell membranes (ergosterol) and inhibiting membrane transport proteins, leading to fungal cell death. This natamycin-based fungicide is the result of the fermentation process of naturally occurring soil microorganisms and provides a new mode of action, inhibiting pathogen growth. This natamycin-based fungicide provides broad-spectrum decay control against mucor rot, blue and gray molds, along with several other fungal postharvest diseases affecting fruit. BioSpectra® is recommended for citrus, cherries, pears, stone fruit, and apples.
This highly effective, natural decay control agent has received an exemption from tolerance (MRL) for current agricultural applications in the U.S and it has shown no resistance development over the past decades of use in food.
As the world's needs continue to evolve, effective biological solutions will play a key role in protecting the quality and marketability of fresh produce. Pace is proud to bring innovative, sustainable solutions to customers and the fruit packing industry.
Pace International recognizes that effective biological solutions are becoming essential to protecting quality and marketability of fresh fruit for the organic and sustainability-minded consumer. Along with that, fruit packers are eager to have an effective organic option when selecting biorational decay control tools for their postharvest programs.
For more information about BioSpectra® 100 SC, please contact your local Pace representative.